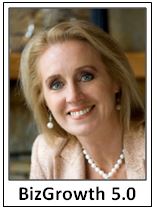 Walking into a Main Street gallery gift shop, I was greeted by its associate who asked, "How may I help you?" My answer, the same answer most likely you have given on countless occasions, "No thank you. I'm just looking." Instead of the usual, "Okay, just let me know if you have any questions," this associate literally seemed to get excited!He leaped out from behind the counter and said, "I have just the thing for you!"
He returned with a card that offered a "Just Looking" discount on my purchase. I did end up purchasing something, so this clever and unexpected tactic worked like a charm. I later learned the associate was the owner of the business. Whether it was a savvy training program or inspired action, this business owner understood how to turn a discouraging answer into a promising sale.  All too often, businesses approach marketing with a surface level mentality, resulting in only scratching the surface to what could ultimately be reaped.
1. Mind-Shifting Observations: When I relocated my business to the Carolinas, I was determined to land a general contractor as one of my first clients in this area. Over more than a decade, at the time, I observed an interesting trend. These types of companies were marketing themselves more like a manufacturing company than a business that was building something substantial. They were also of the mentality "if it ain't broke, don't fix it." I had an alternative solution and did my due diligence to find the company that would be open to listen. This ended up being my first client, an upfitting contractor who liked what I had to say. Sharing my observations for true differentiation resulted in embracing an entirely different way of presenting the capabilities of this company against its competitors, with the outcome of negotiated versus bid work and growth in the millions. 
2. Transforming Objections: The experience I shared at the beginning of this column is an example of transforming an objection into a sale. Another example is when Chobani yogurt experienced its first setback with more orders than its capacity could handle. It initiated what their management team called "Operation Bear Hug." Instead of hiding behind email and voicemail, they went face-to-face with their retailers to explain what they were doing to resolve the issues. In addition, they went in armed with additional solutions for these customers resulting in more sales, in spite of the initial situation that brought them there to begin with. 
3. Planting & Harvesting Seeds: When dealing with seasonal businesses as potential customers, it is easy to sit on your laurels awaiting when their season kicks into high gear. However, when things are slow is exactly when you have momentum-building and preference-building opportunity within your grasp. This is the time to connect and build personal rapport when the decision maker actually has time to talk. Most important, you are doing it with a genuine interest in learning about them, their challenges, their frustrations and their motives. Follow this up with insight-filled solutions, and you will find that priming is just as important, if not more important, than timing. 
4. Out-of-the-Box Branding: What do you do when you have a sea of competitors to go up against?  Instead of flowing with the current, you had better be willing to navigate your way through the clutter into a perfect storm of opportunity. Chances are these competitors are battling it out on a commodity-level of price wars and surface-level schmoozing. Branding your company as a no-holds-barred service and solutions provider, with a bit of an edge to the experience, will set you apart to be unlike any other and will capture attention. If done strategically and effectively, it will capture customers' hearts and wallets too. 
5. Live & In Person: When conducting competitive intelligence on its competitors, a paper rolls manufacturer determined that having a real person answer the phone was going to be a way of differentiating the company. They were right. Their customer service representatives were poised and ready to answer calls intelligently and expeditiously. The company even took it up a notch with after-hours accessibility, while competitors were putting a barrier between them and the customer through voicemail hell. 
Consider what is happening with your customers or in your industry that needs a bit of shaking up. Then devise a strategy that makes it more about the experience than the sale, and you simply cannot lose with much to gain.
Sherré DeMao is author of the nationally acclaimed books, 50 Marketing Secrets of Growth Companies in Down Economic Times, www.50marketingsecrets.com, and Me, Myself & Inc., www.memyselfandinc.com, Her column seeks to help business owners build and grow sustainable enterprises and businesses with economic value and preference in the marketplace.